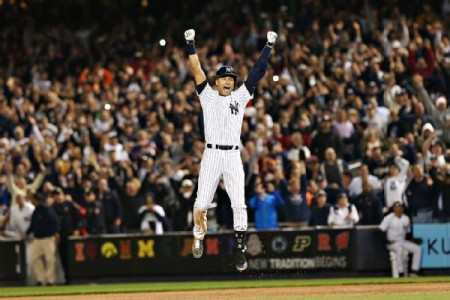 Not everything we blog about here at Computer Geeks has to do with that nasty virus on your computer. We have feelings, and know when we've seen something great, and real, that we may never see in our lifetime again. Derek Jeter isn't just a New York Yankee or a ?Major League Baseball player, he is what the MLB wants to be. Derek Jeter is what MLB should be, and lets be honest, Derek Jeter is who we should all strive to be in our life's endeavors.
Last night I sat down in my office/gaming man cave (set up by Computer Geeks), turned on my iPad and put on my Beat's Headphones so I could drown out planet earth for 3-4 hours and take a ride much greater than I could have expected. I just wanted to see my hero one last time at Yankee Stadium, because after 22 years, Derek Jeter was playing his last game at the house that HE BUILT. It didn't start off great, as the visiting Baltimore Orioles blasted 2 home runs and took a 2-0 in the top of the first inning. Including a HR during Jeter's last roll call, so disaster was in the air. But fret not, Captain Jeter showed he had a little bit of magic left on this day, blasting a run scoring double off of the wall, and later tying the game later that inning by scoring. GAME ON!
The middle of the game was relatively uneventful, until Jeter stepped to the plate in the 7th inning with the bases loaded. He hit a slow roller and made it tough for the SS who threw it into right field, scoring 2 runs, eventually leading to a 5-2 Yankee lead. This looked to be Jeter's last at bat, as their Closer David Robertson, is as solid as they come, But not on this night. They gave up 3 runs tying the game at 5, and honestly I had never been more excited. I would get to see my hero, 1 more time, and know THIS IS IT.
Derek Jeter's Final At Bat
The first batter gets a hit, then Brett Gardner bunts him over to 2nd, setting it all up. Derek Jeter, the Yankee Captain, my hero, and the man of the night was stepping to the plate. You could see it on his face, fighting back tears, not everyone gets this opportunity, this was his moment and he would not disappoint. I woke my 4 year old son out of bed, put him in my lap and told him "watch this Alex, this is what magic really is." With tears in my eyes I watched in awe, as Derek Jeter slapped a base hit into right field, scoring the winning run for the Yankees 1 more time. It was AWESOME, I have watched the clip around 50 times already, I can't tear myself away from it. I just witnessed magic, greatness and real joy from a man that has brought so much of it into my home.
After the game Derek Jeter announced that he would be playing his final weekend in Boston at Fenway Park, which I will be attending, but he wont be playing SS. He wants to leave that memory there, and what a memory it was…RE2PECT