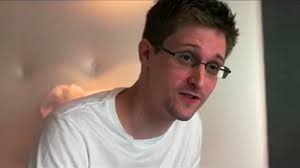 You remember Edward Snowden? He's the one who turned virtually turned the federal government and technological world upside down by revealing the NSA (National Security Agency) is spying on people's computers, smartphones and social media accounts. Now comes Edward Snowden's documentary.
Submitted for your approval is the documentary called Citizenfour. Launched by Laura Poitras, the documentary hints Snowden was higher in the US intelligent game than most gave him credit for and had rare access to minute-by-minute information on government surveillance. It talks about his current residence in Russia, his relationship with his girlfriend (she moved to Russia to be with Edward), and the reality of being in a foreign nation. Despite Snowden being in Russia, he still has to look over his shoulder. Sometimes, he'll get a hand written notice warning him that he might be bugged or followed. The movie will be released October 24. It was pre-screened at a film festival in New York City and got some good buzz. In an interview with the New Yorker, Snowden talked about the documentary. He talks about missing his life here in the US and the people he left behind. He also working on a foundation to protect journalist in violently high risk areas.
The question is how many movie theaters will host this documentary? Because of who this is, and because of the controversy surrounding him, many movie theaters may pass on even hosting this documentary. Something tells me this will be heavily restricted to independent theaters. But what about the consumer? I think there will be quite a bit of support for this documentary. In 2013, Snowden was voted second only to Pope Francis in Time's Person of the Year poll. I doubt the fascination with Snowden has slid that much in the last ten months. How does one live in Russia under his circumstance? Would you see Edward Snowden's Documentary?